'World Day of Remembrance': Connecting Grief to Activism
On Nov. 20, 2022, nearly 2,000 DC-area residents took what may have been their coldest and most important bike ride of the year — the Ride for Your Life, in honor of Sarah Debbink Langenkamp, a U.S. diplomat and mother, who had been killed in Bethesda just a few months before.
We rode to Congress on that particular day in observance of the World Day of Remembrance for Road Traffic Victims and to press for legislation to fund safe streets infrastructure. World Day of Remembrance is an international event started in 2005. The day honors the 1.35 million people killed and millions more injured on the world's roads each year and organizes for change to prevent such tragedies. That is more deaths than those who die from AIDS each year. It is more than die from malaria.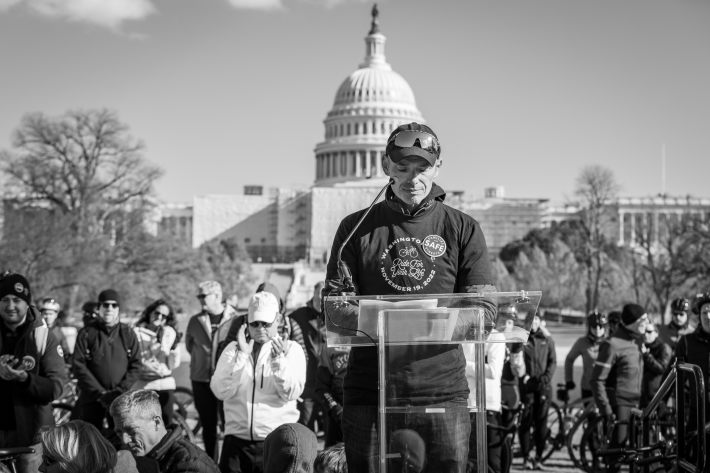 The numbers are shocking: The Governor's Highway Safety Association estimates that 7,508 pedestrians were killed in U.S. traffic crashes in 2022, the highest number of pedestrian deaths since 1981 — and, this estimate does not include cyclist fatalities. In the DC region, we saw an astonishing 37-percent rise in the death of pedestrians and bicyclists. But it is not just bicyclists and walkers of all types who are dying. Roughly 46,000 people were killed in preventable motor vehicle crashes in America in 2022, a level not seen in more than a decade, according to the National Safety Council.
Why? The reasons are simple, according to experts: poor roadway design, including a lack of pedestrian and bicycle facilities; bigger, heavier cars; faster speeds; and, electronic devices that are more distracting to drivers than ever before.
What's frustrating for so many who follow this issue is that traffic violence is a preventable public health crisis. With the right policies — like safer speeds, safer roads, improved driver practices (safer drivers), improved vehicle safety standards, and better post-crash care, these deaths can be prevented. We know this because countries all over the world are implementing these proven policies and driving down deaths. There is a reason people are less than half as likely to die in road crashes in Canada than in the United States.
World Day of Remembrance is this Sunday, Nov. 19. This year, the Montgomery County and District of Columbia chapters of Families for Safe Streets will ride past several crash sites that have broken our hearts in recent years to continue to raise awareness and demand change on behalf of traffic victims in the DC metro area.
The sites will include those for Enzo Alvarenga, a 19-year-old student at the University of Maryland; Sarah Debbink Langenkamp; Nijad Huseynov, a 24-year-old George Washington University graduate student from Azerbaijan; and Allie Hart, a five year old killed on her bike in a crosswalk. But they are just a few of the DC-area residents who were killed in traffic crashes in recent years.
In addition, family members, friends, crash survivors, and other volunteers in Montgomery County and the District of Columbia have installed signs at nearly 100 crash sites to call attention to this growing crisis on our streets. Crashes are more than dots on a map or the haphazard news blurbs that came directly from the police blotter. They are locations where lives were forever changed through the loss of a loved one or serious injury that may never fully heal.

The Ride For Your Life 2023 will take place this Sunday starting at 9:30 a.m. Our objective in this ride is simple: We want as many people as possible to join us to show the city and the region that these loved ones will not be forgotten and that their deaths will never be acceptable. The more people we have, the more our elected leaders and our news agencies will feel compelled to cover these events. Our leaders must implement changes so more innocent people don't die on our roads.
Members from the District of Columbia chapter of Families for Safe Streets are urging District residents and loved ones impacted by crashes in DC to tell DC Mayor Bowser to follow through on her commitment to reach zero traffic fatalities. Members of the Montgomery County chapter of Families for Safe Streets urge community members to contact State and County elected officials, to follow through on similar commitments made in Montgomery County and across the State of Maryland.
Everyone knows someone who has been hurt or injured in a car crash. We have the tools to protect them. It's time to begin the work of implementing them. Learn about the World Day of Remembrance events in the District of Columbia and throughout the United States. We hope to see you there, in community to remember, support, and demand for change.
source
https://usa.streetsblog.org/2023/11/17/world-day-of-remembrance-connecting-grief-to-activism